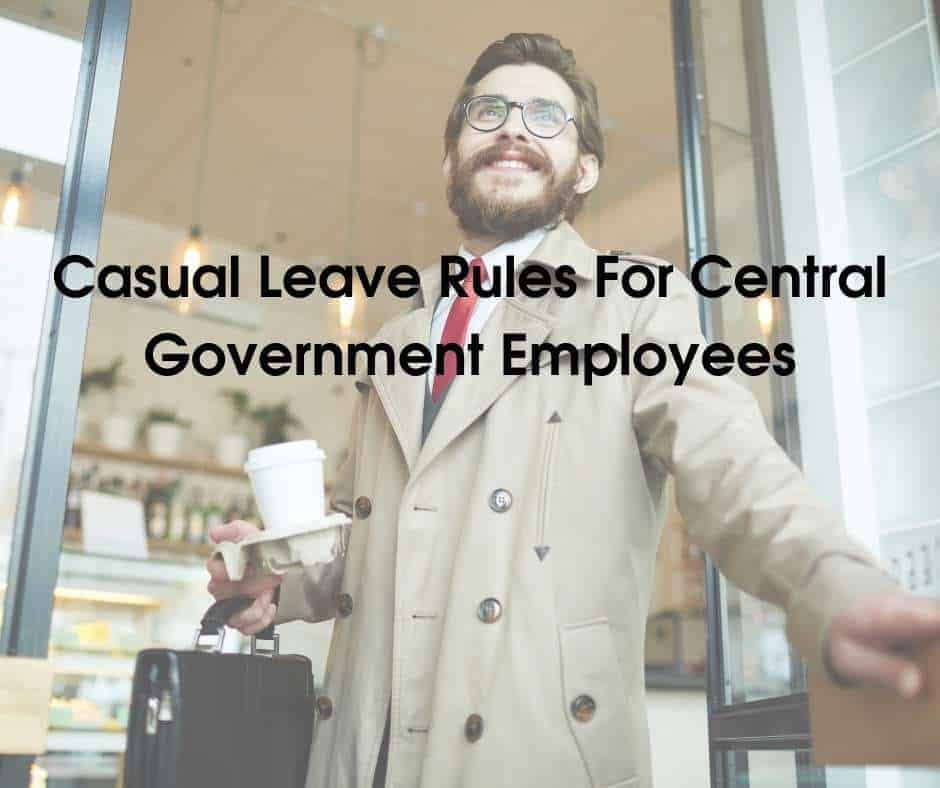 Casual Leave (CL) is not a recognized form of leave.
This leave is not subject to any rules made by the Government of India.
An officer on Casual Leave is not treated as absent from duty and pay/salary is not deducted for this kind of Leave.
Entitlement
The entitlement of CL is of two type:
For those government employees who are entitled to 17 holidays:
The Government employees who are entitled for 17 holidays are entitled for 8 days CL in a year.
Employees with disabilities are entitled for additional 4 days as Special Casual Leave, for specific requirements relating to their disability.
For those government employees who are not entitled to 17 holidays:
The Government employees who are not entitled for 17 days holiday in a year are entitled for 10 days CL.
Casual Leave Rules
This leave can be combined with Special Casual Leave/Vacation only and not with any other kind of leave.
CL cannot be combined with joining time.
Holidays and Sundays falling during a period of CL are not counted as part of CL.
CL can be taken while on tour, but no daily allowance will be admissible for the period.
A CL can be taken for half-day also.
CL is generally intended for short periods.
Normally, it is not granted for more than 5 days at one time, except under special circumstances.
LTC can be availed during CL.
Employees appointed and joining the duty during the middle of a year may avail of CL in proportion or to the full extent depending upon the discretion of the competent authority.
Half-day Casual Leave
An employee of the government who has some urgent work for half-day can avail this kind of leave.
An employee is allowed to take this leave in the forenoon or the afternoon.
The lunch time basically demarcates the half-day Casual Leave.
In case of Late Attendance Half day CL can be debited.
Note: In cases where even debiting the Half day CL of an employee does not ensure his/her punctual attendance, disciplinary action can be initiated against such official.
CL which is not recognized as leave under the leave rules, it shall not be combined with any other kind of leave.
Application for Casual Leave
The application for this kind of leave can be made on a sheet of paper addressing to your administration section or the section dealing with leaves.
Usually following details are mentioned in a CL form:
Name of Applicant
Designation
Section
Number of days of Leave
Date/Period
Purpose
In station/ Out Station
Date
Related Post: